Phi Kappa Sigma International Fraternity was founded by Samuel Brown Wylie Mitchell at the University of Pennsylvania on August 16, 1850.
Fascinated by the prospect of fraternal relations with his fellowman, Mitchell set out to found a new, secret order in the restricted life of the university at that time. His papers indicate that on August 16, 1850, he had determined to install a new order on the campus in the fall of 1850.
Between August 16 and October 19, 1850, Mitchell sought six other men to constitute the Alpha Chapter of Phi Kappa Sigma. The formal organization of Alpha Chapter occurred at the home of James Bayard Hodge on October 19, 1850.
While the official founding date of the Fraternity is August 16, 1850, Phi Kappa Sigma began celebrating "Founder's Day" on October 19 as a commemoration of the establishment of Alpha Chapter.
Mitchell, born August 16, 1828, attained a high level of achievement at the University, including earning B.A., M.A., and M.D. degrees. He spent a year as an assistant physician at Philadelphia Hospital and was responsible for supervising the Fraternity's growth at the University of Pennsylvania and the other schools where early chapters were established. Dr. Mitchell practiced medicine until he was commissioned on April 11, 1861, as a Major and Surgeon in the Union Army with the Eighteenth Pennsylvania U.S. Volunteers. He served with distinction until the expiration of his service on January 24, 1865. In March of the same year, Mitchell was made Lieutenant-Colonel U.S.V. for "gallant and meritorious service."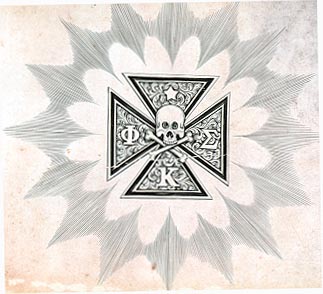 The idea of establishing the Fraternity at the University of Pennsylvania was first recorded in Samuel B.W. Mitchell's personal papers on August 16, 1850, which was also his twenty-second birthday. The date of his birthday, as well as that of the Fraternity, was destined to have a further significance when Dr. Mitchell died on August 16, 1879. When college opened for the fall term of 1850, Samuel B. W. Mitchell had developed the basic principles of the Phi Kappa Sigma Fraternity. These included the Constitution and Ritual, the order's name, and the design of the badge - a Maltese cross supporting the six-pointed star, the letters Phi, Kappa, and Sigma, and the Skull and Bones. No modification, except in size, has ever been made to the badge originally designed by Dr. Mitchell.
As soon as the school opened for the autumn session, Mitchell communicated his ideas to Charles Hare Hutchinson. Hutchinson was impressed with Mitchell's ideas and explained them to Alfred Victor du Pont, John Thorne Stone, Andrew Adams Ripka, James Bayard Hodge, and Duane Williams. It was these seven men, with Mitchell serving as their leader, who organized Alpha Chapter and officially founded Phi Kappa Sigma on the l9th of October, 1850.